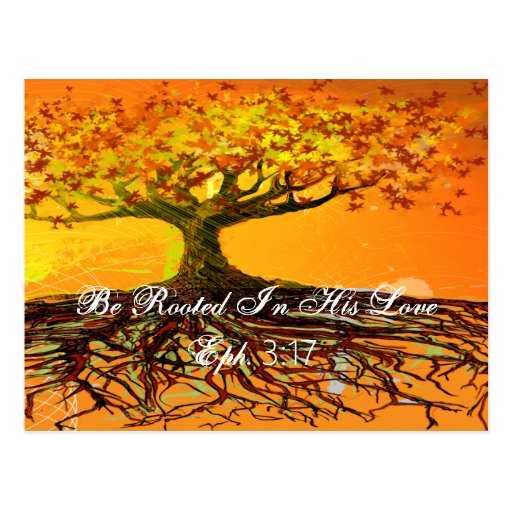 God's love is like a healthy soil. If we firmly plant our roots in His love, we will flourish in His love. Our branches will not die and our roots will be deep and strong. If we plant ourselves in the world's soil, our branches will die and our roots will be shallow. The quality of the soil will not be rich.
Paul says in Ephesians, "I pray that from His glorious, unlimited resources he will give you mighty inner strength through His holy spirit. And I pray that Christ will be more and more at home in your hearts as you trust in Him. May your roots go down deep into the soil of God's marvelous love. And may you have the power to understand, as all God's people should, how wide, how long, how high and how deep his love really is. May you experience the love of Christ, though it is so great you will never fully understand it. Then you will be full of the life and power that comes from God. Now glory be to God! By his mighty power at work within us, he is able to accomplish infinitely more than we would ever dare ask or hope. May he be given glory in the church and in Christ Jesus forever and ever through endless ages." Amen.
Ephesians 3:16-21
It is not enough to only experience Jesus' love and accept it in our hearts. That is only the beginning, the root. There is so much more of our faith and growth in God to experience. The root has to grow into a fully grown and mature plant for it's "work" to be complete, but it still needs water to stay alive and thriving. Paul knows that in order to really dip our toes into the beginnings of how deep God's love is for us that we must constantly be in communion with God, listening and learning. This is the constant "watering" of our souls to stay alive in Christ.
When we plant our roots firmly in God's soil, he helps us to have mighty, inner strength. This type of strength can only come from God's grace. It is not strength that we can find on our own. Paul says that God has unlimited resources. It means he doesn't get exhausted or tired of helping us to become strong in Him. As we commit ourselves to growing the roots of our life in God's love, God gives us more understanding of His ways. We grow as we commit to growing in God. It's a commitment on our part. God then honors our commitment by providing the deep, rich soil we are to plant ourselves in. He is not obligated to, but gives it to us out of His grace.
When life gives death, sorrow, disease and difficulty, we draw from the rich soil we have planted ourselves in to provide us comfort. We then only begin to grasp how wide, how high, and how deep His love for us really is. If we don't make the choice to plant ourselves in God's soil, we don't have the richness of that to carry us through life's difficulties and choices. We need God's soil to thrive and grow strong. God's soil gives us a strength that the world does not know. The world gives us a temporary, shallow strength. This world will pass away and it cannot provide a rooted strength. It's strength is false and fleeting.
Paul says Christ's love is so great we can never understand it. None of us has fully grasped the depth of our sins and therefore it is hard to grasp the enormous love of God sending his son to die for us. This alone shows us that we cannot measure God's love. It is beyond our human understanding. We don't have to fully understand it to begin to plant our roots. We can trust in God's promises, because Paul says when we do "then you will be full of the life and power that comes from God. Now glory be to God! By his mighty power at work within us, he is able to accomplish infinitely more than we would ever dare ask or hope." What a tremendous promise. When his mighty power works within us, He will accomplish not the bare minimum, but more than we could ever fathom.
Prayer: God, show me the beginnings of your love for me. Help me to plant my roots firmly in you so that my life is healthy, full of your life, and always growing. Amen.
"You cleared the ground for it, and it took root and filled the land." Psalm 80:9
...the root your right hand has planted, the son you have raised up for yourself. Psalm 80:15
"The wicked desire the stronghold of evildoers, but the root of the righteous endures."
"Therefore, as tongues of fire lick up straw and as dry grass sinks down in the flames, so their roots will decay and their flowers blow away like dust; for they have rejected the law of the

Lord

Almighty and spurned the word of the Holy One of Israel." Isaiah 5:24
May God's peace and wisdom be with you as you build your own wall of God's truth.