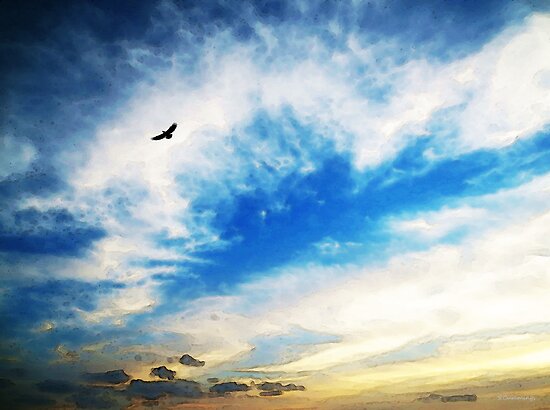 "But those who hope in the LORD will renew their strength. They will soar on wings like eagles; they will run and not grow weary, they will walk and not be faint." Isaiah 40:31




We are meant to soar. God intended us to. He intended His people to see things from a higher vantage point.
We are to soar the heights of God's peace.
We soar when we seek His face and His character.
We soar when we keep our eyes fixed on heaven and not on things of earth.
We soar when we trust in His healing and His rich goodness.
We soar when our heart feels His restoration.
We soar when we see His justice and mercy.
We are to strive to do better, live better and always learn. We are called to see there is a better path. One that is like the eagle, who dares to soar higher than most and doesn't care about the approval of the majority.
We are not meant to be chickens, pecking at the ground with our eyes fixed on earth, satisfied with a life focused on scratching in the dirt.
We soar when we seek wisdom and knowledge to live a life based on God's foundation. We soar on wings like eagles when we know the rays of God's truth shine brightly on us.
We soar when we eat from the table God has laid for us. His table has forgiveness, love, refinement of our souls, healing, gentleness of spirit and restoration. His table is set with eternity.
We fall to earth when we reject His table. It is laid for us to make us soar. We turn away as it requires that we soar higher than the others and that we may not gain approval of man. To soar higher than the others will require work and discipline. It will require that we not trust ourselves, but that we trust in God to make us soar.
But the eagle does not fear. He soars and he trusts in God's power to be under his wings. He will not fall to earth while relying on God.
For all of his days, the eagle will soar the peaceful wind and he will make his nest higher than the others. He will live his life in peace and victory, even when hardships come his way.
He soars the heights with a peaceful heart, trusting God for his sustenance.
We soar when we know that God's ways bring freedom, and freedom makes the heart soar and experience a peace that is wide, vast and deeper than the deepest ocean.
We start to soar, and we too often quickly fall back to the ground. Soaring in God's freedom isn't meant to be momentary, it is meant to be eternal.
Jesus died to break the chains of sin that would keep us from soaring.
We keep pecking on the earth as if we are bound here. The eagle will look above and see how high he can soar, because he knows he is not bound any longer.
We are commanded by God to soar! It's His intention for us.
The chains are broken. So soar TODAY.
"Is it at your command that the eagle rises
to the heights to make its nest?" Job 39:27