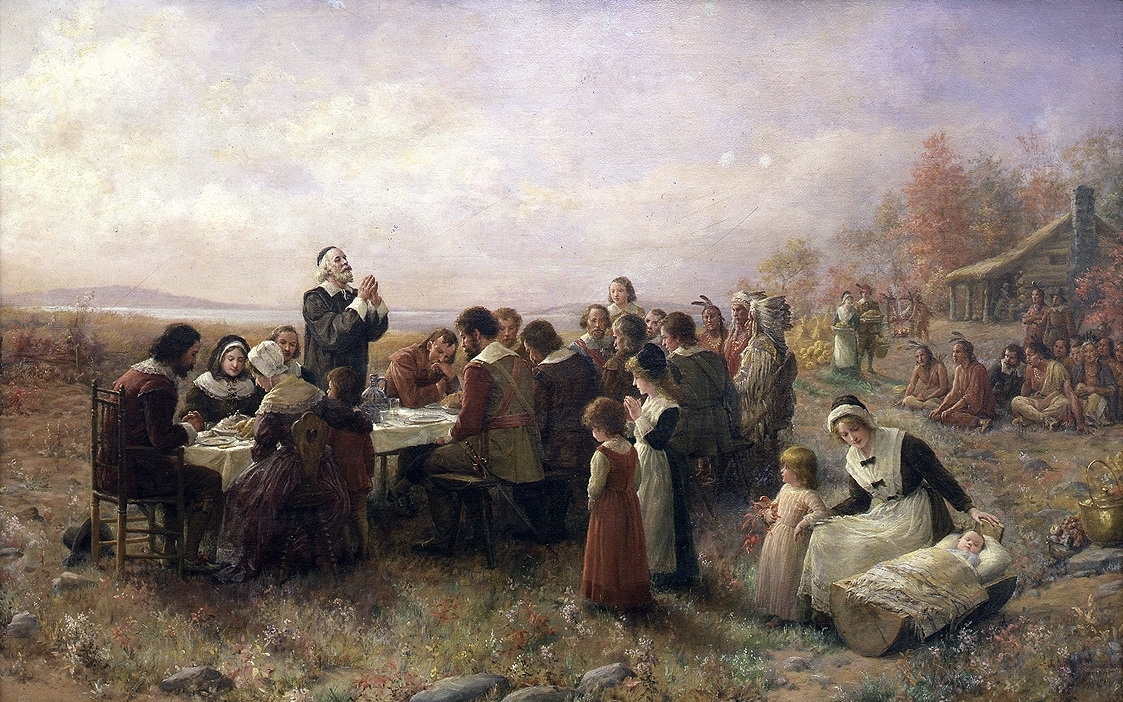 ("The First Thanksgiving at Plymouth" By Jennie A Brownscombe)
"And a highway shall be there, and it shall be called the Way of Holiness; the unclean shall not pass over it. It shall belong to those who walk on the way; even if they are fools, they shall not go astray." Isaiah 35:8 (ESV)
A highway of holiness, a way of life. Jesus paved this way for us, leaving us His words, His sacrifice, and the Holy Spirit. A Christian life is one that reflects the holy way. It is a path that orders our steps and directs our whole way of life. Following Jesus isn't just something to 'add in' to busy schedules, faith is something that is a part of us and He cannot be separated from any part of life. After accepting Jesus as our Savior, the 'master' of our lives, our life should begin to be refined---changed. The way of holiness shall belong to those who walk in the way.
"Therefore, if anyone cleanses himself from what is dishonorable, he will be a vessel for honorable use, set apart as holy, useful to the master of the house, ready for every good work." 2 Timothy 2:21
Jesus won't leave us alone to purge out what is dishonorable in our lives. He will walk with us, guiding us and teaching us. Yet, we cannot expect that He won't cleanse us. Our former way of life is cast off, the world and it's sin, humanism, impurity and lies was the former master. Now God in the flesh is our Savior, so we must cast off the weight of the former life. Jesus wants to make us honorable and set apart for Him, ready for every good work.
"Holiness, as taught in the Scriptures, is not based upon knowledge on our part. Rather, it is based upon the resurrected Christ in-dwelling us and changing us into His likeness." A.W. Tozer
There is no 'readiness' for Christ's work and healing in our lives if we are unwilling to be cleansed and to rid our lives of impure things. Our whole way of life in fact can be 'impure.' Impurity is not just what we deem "the big stuff"---drugs, crime, abuse etc. Running around in chaos, a schedule so busy it will lead to our demise, taking in too much media, addiction to screens, a focus on self, idols in our life, not honoring God as we should, laziness and lack of spiritual discipline----all of these are impure things in our lives that do not lead us closer to God.
"For God has not called us for impurity, but in holiness." 1 Thessalonians 4:7
Often we overlook impurity, take it as no big deal. Over time these things begin to build up and callous our hearts. Impurity in tv shows, songs, our speech, our habits, our schedules---they are a big deal, and they matter to God. They numb us to true holiness and love, and most of the time we do not realize it. Jesus, the ultimate representation of purity, calls us to His refining fire and His way of life for us. As these things are removed from life we can see Jesus anew and with clearer eyes. The eyes of the heart are renewed and can see the pure life we are called to live.
"Now may the God of peace himself sanctify you completely, and may your whole spirit and soul and body be kept blameless at the coming of our Lord Jesus Christ." 1 Thessalonians 5:23
If we have accepted Christ's blood shed for us, that He has cleansed us to make us anew, and we are continuing on the same path as before with Jesus as an accessory like a nice handbag, we do not truly understand His way, or we are hesitant to alter our lives so drastically that they will look different from almost everyone. (even most Christians today) When we understand His way, we will slowly eliminate things from our lives, growing more like Him, and listening to the Holy Spirit direct our steps. He cares about everything in our lives, including how we live, that our life reflects Him.
"He himself bore our sins in his body on the tree, that we might die to sin and live to righteousness. By his wounds you have been healed." 1 Peter 2:24
Now we are dead to sin, and alive to righteousness. Being truly alive in hearts, in the Holy Spirit, will begin to produce the fruit of change in our life, as we walk the Highway of Holiness.
The Pilgrims sailed in cramped quarters and risked disease, starvation and death. Why did they do this? They believed their worship of Jesus, their way of life---their 'way of Holiness' was so sacred to them, the way of life-giving salvation---that they were unwilling to give up this way of life. To them, it was THE only way. There weren't any other options, no compromise with truth. The Truth (Jesus) was so valuable to them that they were willing to start life over in a new land as "strangers and pilgrims."
"These all died in faith, not having received the things promised, but having seen them and greeted them from afar, and having acknowledged that they were strangers and exiles on the earth." Hebrews 11:13
Today, we don't want to accept that following Christ will change everything. We won't watch, listen to, or live the lifestyle that most have. Truly, following Jesus means a return to some of the old paths of life. These paths produce so much fruit---peace and holiness. Having peace in our life, healing in our hearts, carrying Jesus' true peace every day---this is priceless and worth more than any sacrifice of petty things. Our hearts and minds are no longer 'cluttered' with things that do not matter, things that make our hearts and minds feel heavy and chaotic. We are free in Christ to walk His way, not the world's. God's way and walking His path is the purest freedom.
"And your ears shall hear a word behind you, saying, "This is the way, walk in it," when you turn to the right or when you turn to the left." Isaiah 30:21
"If you don't delight in the fact that your Father is holy, holy, holy, then you are spiritually dead. You may be in a church. You may go to a Christian school. But if there is no delight in your soul for the holiness of God, you don't know God. You don't love God. You're out of touch with God. You're asleep to his character." ~R.C. Sproul
"Why would we want fame, when God promises us glory? Why would we be seeking the wealth of the world when the wealth of heaven is ours? Why would we run for a crown that will perish with time, when we're called to win a crown that is imperishable?" ~Paul Washer