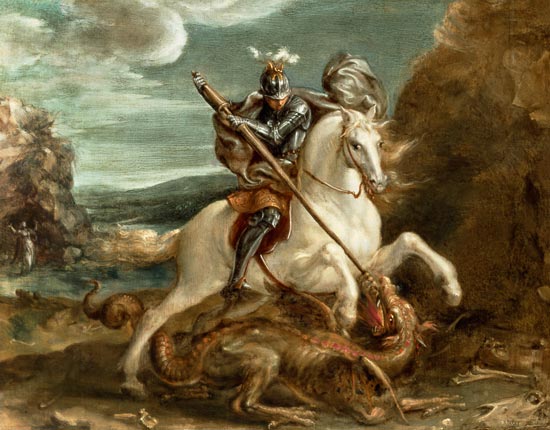 "The Patronage of Saint George"
"Wake up, wake up, O
Lord

! Clothe yourself with strength! Flex your mighty right arm! Rouse yourself as in the days of old when you slew Egypt, the dragon of the Nile." Isaiah 51:9

The wind blows strong and hard many days and it is hard to walk against it. Discouragement sets in wondering if we are strong enough to keep walking through the cold. The enemy is strong at both sides and wants to oppress and confuse, but God's warmth holds safe and strong. A battle rages in the mind between confusion, chaos and the sharp sword of truth.




"Don't be afraid, for I am with you.




Don't be discouraged, for I am your God.




I will strengthen you and help you.




I will hold you up with my victorious right hand." Isaiah 41:10

Can we love as we should? Unselfishly, in servant-hood, death to the passions that taint us and threaten the ones we love. We can die to ourselves when we accept that is Christ-like. He did the work for us and we need only to accept Him as He is and all that He asks of us. Dying to self is not popular nor often preached in churches, but it is required of us. There is no warm and fuzzy feeling as the grafts of holiness over the grafts of dysfunction and sin may cause pain and discomfort as they take hold. Wondering if we have the strength to allow the sicknesses of the past to be slain or live in the comfort of the familiar discontent.

"And those who belong to Christ Jesus have crucified the flesh with its passions and desires." Galations 5:24

The voices and screens of entertainment, and authors of the latest book and the radio and the news. The voices threaten to overtake truth and vision becomes dimmed and foggy. Half truths seem appealing and many mouths agree with them. Turning to the source of truth, the clear truth where there no fog, only light, is the answer.

"For the word of God is alive and powerful. It is sharper than the sharpest two-edged sword, cutting between soul and spirit, between joint and marrow. It exposes our innermost thoughts and desires." Hebrews 4:12


Will this path be worth it we wonder? The hot furnace, the struggle, the wanting to give in. Wondering if we have the strength to walk the path of Truth. Saying no to another life we could have had, one that seems easier but is really empty. The struggle to live the one that is harder but comes with depth and wisdom. Going against the path of culture that puts many stumbling blocks in our path, can we be wise and strong enough to remove the rocks in our path?

"But that is not the way you learned Christ!— assuming that you have heard about him and were taught in him, as the truth is in Jesus, to put off your old self, which belongs to your former manner of life and is corrupt through deceitful desires, and to be renewed in the spirit of your minds, and to put on the new self, created after the likeness of God in true righteousness and holiness." Ephesians 4:20-24

Few seem to sustain it, to not give into the brokenness and dysfunction that threatens to overtake. To not give in to the culture, the status quo. Few can fight what is deemed normal. They dabble in half truths they think to stay alive and they stay half baked. The truth of God is never fully realized in their lives because of muddled thinking, stubbornness, refusal to allow Christ to overtake the heart. A life not fully lived enmeshed in God's Holy Truth is a life that was not given over to it's full potential were it lived in the shadow of God's wings. We doubt God's promises, the One who can never lie. The One who is truth, speaks truth, is the living truth. The One whose promises can never fail.

"He will cover you with his feathers. He will shelter you with his wings. His faithful promises are your armor and protection." Psalm 91:4


Wondering if we are brave enough to fight the good fight, picking up the armor that is dented and setting out again. Slaying lies, half truths, evil ideas and words that are not from The Word. Recognizing the dragons inside ourselves that need slaying first before we go out to be Christ's soldiers. Allowing ourselves to be pruned to bear fruit, the fruit of holiness, contentment, love, peace, unselfishness, and a gentle tongue.

"I am the true vine, and my Father is the vinedresser. Every branch in me that does not bear fruit he takes away, and every branch that does bear fruit he prunes, that it may bear more fruit. Already you are clean because of the word that I have spoken to you. Abide in me, and I in you. As the branch cannot bear fruit by itself, unless it abides in the vine, neither can you, unless you abide in me. I am the vine; you are the branches. Whoever abides in me and I in him, he it is that bears much fruit, for apart from me you can do nothing." John 15:1-6

Will we be the brave ones--- the blazing ones, the ones who won't walk in the old patterns, but will tread the new ones. Trusting God's armor is strong enough, more than enough, that He is who He says He is.

"Harness the horses; mount, O horsemen! Take your stations with your helmets, polish your spears, put on your armor!" Jeremiah 46:4

Trusting God so that those after us will walk the path of victory that we were brave enough to walk, that those before us neglected, slaying the confusion and envy that haunts us so it is dead. Trampling it down so it can never rise again. Out of the ashes and the dust comes God's victory, held strongly in the hand His sword of Truth. Slaying all evil, all sin, and all unholiness, giving rise to His truth and righteousness. Putting on His armor, holding on to His right hand we shall prevail.

"Therefore take up the whole armor of God, that you may be able to withstand in the evil day, and having done all, to stand firm." Ephesians 6:13


As we set our faces as flint, for our husbands, wives, children, and our children's children, may we never give up, always holding our sword of Truth in front of us. The prophets, the prophetesses, God's children, His Holy Ones, His loved ones, His cherished ones, His anointed ones arise to victory.

"But the Lord

God

helps me; therefore I have not been disgraced; therefore I have set my face like a flint, and I know that I shall not be put to shame." Isaiah 50:7 "In that day the

Lord

will take his terrible, swift sword and punish Leviathan, the swiftly moving serpent, the coiling, writhing serpent. He will kill the dragon of the sea." Isaiah 27:1 ***Pictures of St. George usually show him killing a dragon to rescue a beautiful lady. The dragon stands for wickedness. The lady stands for God's holy truth. St. George was a brave martyr who was victorious over the devil.